McLanahan Filter Presses a Sustainable Solution to Fine Material Waste
Aggregate and minerals processing producers typically send the fine material waste from their wet processing plant to settling ponds or tailings dams, which provide a space for the solid material to settle and allow the recovery of reusable water.
Usually, these ponds are difficult and costly to manage in terms of maintenance, since full ponds require the periodic removal of material. Permitting new ponds to hold the additional fine material waste can be a challenge as well. Ponds can also take up quite a bit of valuable land space, potentially covering up mineable reserves.
McLanahan Resource Center
Filter Press
At McLanahan, we aren't just here to sell you equipment - we're here to make sure that you're going to be up and running, creating material and making money. We provide our dealers and customers with educational resources to properly use, service and support their equipment. From debunking myths and system comparisons to case studies and history, here are a few of the resources available to you about McLanahan Filter Presses.
Belt Filter Presses vs. Recessed Plate Filter Presses: 4 Key Differences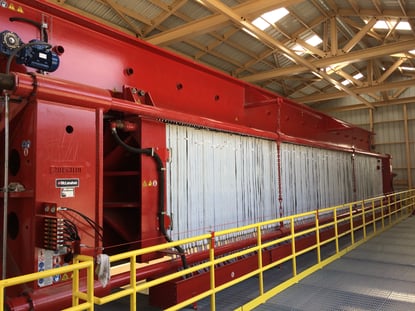 Belt filter presses and recessed plate filter presses are both used to separate solids and liquids in slurries in a variety of applications, including the aggregate and mining industries.
The similarities between the two pieces of equipment end there, however. Besides design and how they work, belt filter presses and recessed plate filter presses differ in four key areas, which are outlined below.
Belt Filter Presses
Belt filter presses are a type of equipment used to separate solids and liquids in slurries.
The slurry is continuously fed to a delivery zone/box, then forced between two moving porous belts. The belts pass over and under rollers of various diameters, forcing the liquid to be squeezed out of the slurry while the solid cake material is retained between the belts. Increased pressure is created as the belt passes over rollers of decreasing diameter.
Visit our website to continue reading.
How an Overhead Beam Filter Press Works