McLanahan UltraWASH
All equipment that is part of the UltraWASH plants, including the vibratory screen, hydrocyclones, dewatering screen, sump and pump, is based on the company's well-known, field-proven designs. UltraWASH plants provide a quick, easy-to-install processing system. This modular wash system is ideal for producers facing criteria such as planning permits, multiple locations, short-term deployment, or an unknown/variable feed stock (e.g. C&D waste streams applications) that make implementing a customized, fixed processing solution difficult.
Currently available in six sizes and configurations, the UltraWASH can produce up to three aggregate products and up to two sand products. There is a single process water feed point, as well as a single effluent discharge point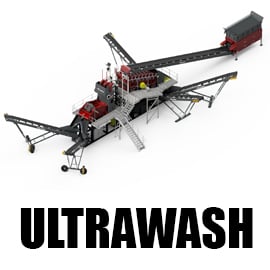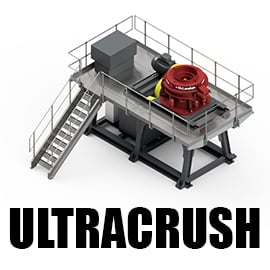 McLanahan UltraCRUSH
McLanahan's proven line of crushing equipment is known for its performance and durability, and you can expect the same from our UltraCRUSH Modular Crushers. Utilizing our field-proven designs, we have created standard components that allow for quick delivery and easy assembly to get your plant up and running. Our modular crushing systems can handle everything from hard-rock to soft materials can be configured with multiple other modular components to create a complete crushing circuit that meets your specifications.
We know the importance of keeping your application operating and profitable, so we back each and every UltraCRUSH System with our legendary service and support for the life of the machine.
McLanahan UltraSAND
With the greater separation efficiency of Hydrocyclones/Separators™, The UltraSAND is proven to provide a higher product yield compared to stand alone processing equipment. Another advantage is a much lower moisture content from the Dewatering Screen, depending on the characteristics of the sand. The end result is almost immediate use of the product, steeper stacker angles for more stockpile capacity, reduced water loss, and better housekeeping. Sand equivalencies are also improved by the use of this design of plant.
As every site has different needs, McLanahan is up to the challenge in designing a system to match a process instead of making the process match the equipment. Hydrocyclone-fed units with or without a scavenger cyclone, along with other types of designs, can be engineered to order to give the best possible solution.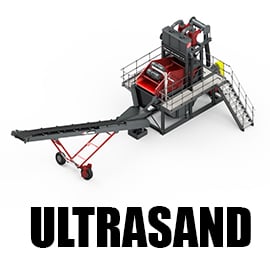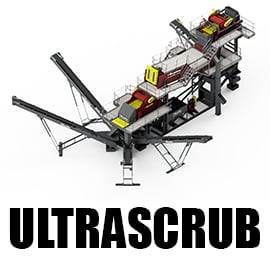 McLanahan UltraSCRUB
Capable of removing water soluble materials from the toughest of clays, McLanahan UltraSCRUB Modular Scrubbing Systems provide a flexible washing option for aggregate feeds. Arriving on-site in containerized modules, producers will benefit from the shorter lead times, quick set-up and ease of transportation offered by the UltraSCRUB.
McLanahan scrubbing modules offer the same level of reliability and performance as our stationary scrubbing equipment but with several additional advantages. First, the McLanahan UltraSCRUB is pre-built and pre-designed, which allows both shorter lead times and faster setup time to get you producing sooner. Utilizing these scrubbing modules also offers an ease of transport so you can move your production from site to site, saving you from purchasing duplicate equipment.